SMOK Nord 5 Pod Kit 80W 2000mAh 5ml
Introducing the SMOK Nord 5 Pod Kit - the ultimate vaping companion for enthusiasts seeking exceptional performance, convenience, and style. Designed with cutting-edge technology and attention to detail, this pod kit offers a seamless combination of power, versatility, and reliability.
At the heart of the SMOK Nord 5 Pod Kit lies a powerful 2000mAh battery, capable of delivering up to 80W of output power. Whether you're a beginner or an experienced vaper, this pod kit offers an intuitive interface and user-friendly controls, making it easy to customize your vaping experience to suit your preferences.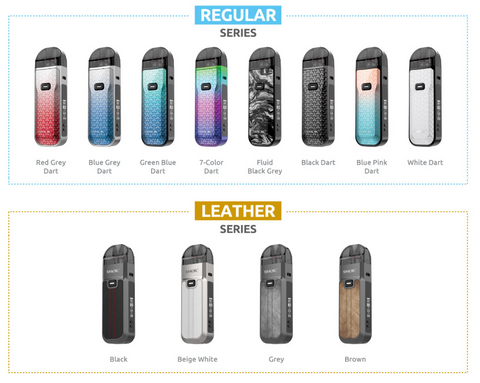 The SMOK Nord 5 Pod Kit features a sleek and ergonomic design, crafted from high-quality materials that ensure durability and comfort. Its compact size allows for easy portability, so you can enjoy your favorite on the go.
One of the standout features of this pod kit is its 5ml liq capacity, providing you with extended vaping sessions without the need for frequent refills. The pod cartridge is easy to refill, and the transparent design allows for easy monitoring of the liq level.
Equipped with advanced safety features, the SMOK Nord 5 Pod Kit prioritizes your well-being. It offers protection against overcharging, over-discharging, short circuits, and low voltage, ensuring peace of mind while you enjoy your vape sessions.
The SMOK Nord 5 Pod Kit is compatible with a wide range of coils, providing you with endless options to explore and experiment with different resistances and vaping styles. Whether you prefer sub-ohm vaping or mouth-to-lung hits, this pod kit has got you covered.
In summary, the SMOK Nord 5 Pod Kit is a must-have for vapers who demand power, versatility, and convenience. Its exceptional performance, stylish design, and user-friendly features make it a standout choice in the vaping market. Elevate your vaping experience and discover new horizons with the SMOK Nord 5 Pod Kit.
Features:
2000mAh Internal Battery

5W-80W Output Range

5ml SMOK Nord 5 Pod

Preinstalled RPM 3 Meshed 0.15ohm Coil

Regular Series and Leather Series

0.69inch OLED Screen

Dual-side Airflow System

Drag The Slider

Wide-bore Mouthpiece

Side Filling System

Compatible With Smok RPM 3 Coil Series

Perfect for DL Vaping

For Freebase

Meshed Structure
Brand: Smok
Unit: 1 Set
Size: 105*32.5*23.74mm
Battery Capacity: 2000mAh
Power Range: 5W-80W
Input Voltage: 3.3V-4.2V
Output Voltage: 0.5V-4.0V
Standby Current: <50uA
Resistance Range: 0.15ohm-2.5ohm
Charging Voltage: 5V+-0.2V
Charging Current: Max 1.2A
Overcharge Current: 1.75A+-0.6A
Over discharge Voltage: 2.4V+-0.03V
Package: Gift Box
Package comes with
1pc Smok Nord 5 Device (2000mAh)

1pc Smok Nord 5 Pod (RPM 3 Meshed 0.15ohm Coil Preinstalled)(5ml)

1pc RPM 3 Meshed 0.23ohm Coil

1pc Type-C Cable

1pc User Manual
---
We Also Recommend